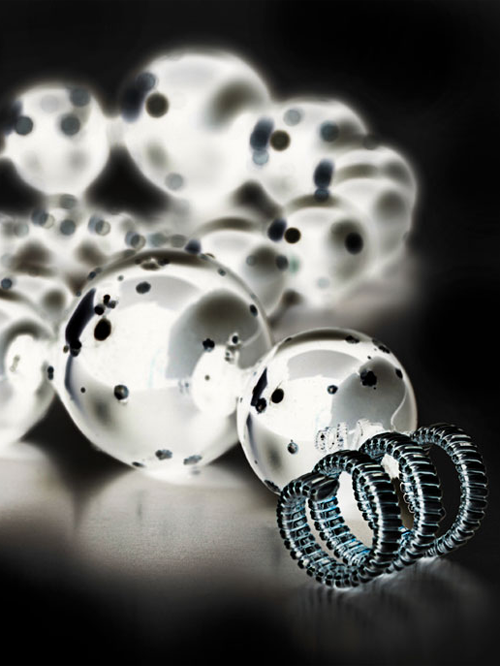 After graduation at School of Medical and Scientific Illustration in Bolgna University with a major in anatomy illustration, I entered and won a competition for a position with the Orthopedic Department, School of Medicine, University of Padua, a position that I maintained for three years, increasing my skill through intense and varied work experience.
•
Because of proximity to the Venice Laguna during that time, I frequently visited the Island of Murano, a center of glass work manufacturing known for the artistic level of its production all over the world over nine centuries. I was conquered in heart and mind in particular by pieces incorporating glass and pearls.
•
Gradually I conceived that the combining of glass with precious metals could make jewels of a new design breaking away from an age-long tradition. Definition and achievement of the actual manufacturing process required long experimentation supported along the way by input from Florentine gold-jewel makers.
•
The result is a glass piece that itself has become a jewel whose value is further enhanced by a goldand-diamond clip of my own patented design. Glass of my collection has been treated in a 12-hr, 900-Fo tempering process through which, losing its fragility, it acquires high impact resistance.
•
Packaging is also designed to be of context with a hand-made product of Italy: the jewel container will be an artifact of renowned Florence leather work artists.
•
It was crucial meeting with the three photographers who have interpreted KrisoViro with the creative spirit of Teatro Magico:
Marco Maria d'Ottavi, he pulled my jewelry to the grace and strength of ballet dancers.
Gian Luca Mosconi, who made still-life that does not leave room for imagination, but let your fantasy roam free.
Alfredo Sabbatini, which is produced in shots visionaries of powerful intensity as regards the worn.
•
The result was a project of 'story' and then that makes communication on the quality of my product, the catalog KrisoViro with the three campaigns.